In April 2021, SoundCloud launched its first "Fan-Powered Royalties" platform – its own brand of user-centric streaming payment model.
This method of monetization sees the royalties from each individual subscriber's monthly payment split only among the artists they listen to.
This contrasts with the more typical model of "big pot" or "prorated" streaming royalties – adopted by companies like Spotify – which sees all royalty revenue paid/generated by users centralized by one service, before be shared based on artist market share across a platform.
It's been a year now since SoundCloud fan-powered royalties were made available to independent artists who upload/monetize their music directly through SoundCloud. And today (April 25), SoundCloud revealed a series of updated statistics on the progress of its payment system.
These statistics include the fact that 135,000 independent artists are now paid through Fan-Powered Royalties (FPR). This marks a 30% growth in the volume of artists signing up to monetize their music through FPR on the platform since March 2021.
SoundCloud also claims that, on average, independent artists now earn 60% more through fan-fed royalties than they would have if they had stuck to the traditional pro-rated model.
As mentioned, the pro-rata model sees royalties paid to recorded music rights holders based on their respective market shares of total plays on the music streaming service.
SoundCloud says this system sees "megastars getting the most out of it."
---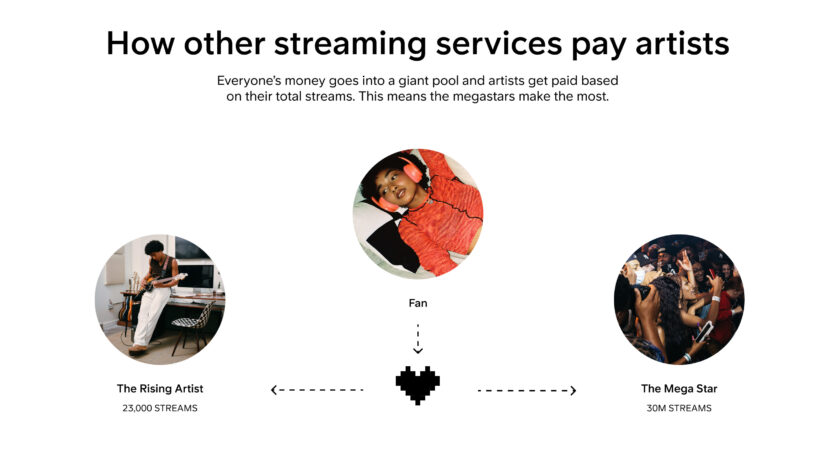 ---
SoundCloud also reports that, as of March 2021, 97% of fans on SoundCloud have individually contributed more than $5 to "a single artist they like" via fan-powered royalties.
Artists eligible for fan-powered royalties are independent artists who monetize directly with SoundCloud, including Pro Unlimited subscribers in the Premier Program, Repost by SoundCloud subscribers and members of Repost Select.
---

---
To celebrate a full year of operating its Fan-Powered Royalties platform, SoundCloud is kicking off what it calls, "Fan-Powered Friday," this Friday (April 29).
On this day, SoundCloud says it "invites fans to stream music from their favorite indie artists all day." In turn, SoundCloud pledges to double those artists' royalty payments – matching 100% of their revenue earned that day.
---
SoundCloud has previously cited two independent artists as successful case studies for its Fan-Powered Royalty System.
By switching these artists, Chevy and Vincent, to a "fan-powered" and away from "pro rata" model, based on their play counts at the time, the service estimated that Chevy's monthly royalties would increase by 217%, while those of Vincent would multiply by five. , going from $120 to $600.
In July, influential British band Portishead released their cover of ABBA's S.O.S. exclusively on SoundCloud, citing the fan-powered payment model as the reason for their decision to release exclusively on SoundCloud.
This release marked the first time the track was released on a major streaming platform (apart from YouTubewhere the video currently has over 3.5 million views).
SoundCloud said later in the year that the song earned 500% more with the fan-powered payment model than with the prorated model.
"The model works. artists with genuine and loyal fanbases are rewarded – and that's just the first step.

SoundCloud
In a statement announcing the new stats, SoundCloud said, "The model is working. Artists with genuine and loyal fanbases are rewarded – and that's just the first step.
"Fan-Powered Royalties fuels a fan economy where there is an opportunity for more engagement between artists and their fans; drive the creation of an innovative and integrated ecosystem to promote the artist-fan relationship across multiple touchpoints on SoundCloud.
The music industry around the world