There is a rumble in the gallery, rising through the building. Sliding into each other, cycles of white noise and hiss come and go, accompanied by a deeper sonic note, sometimes accelerated by a silent pulsation or shaken by jerky beats. A distant door slams with a bark and turns into a delayed echo, and a metal ladder slams and creaks on a concrete floor. Or is it a real door closing somewhere in the building and someone moving a ladder to a distant room? Who knows how long I'll have to wait for the sound to come back, if it ever happens again, in Trevor Mathison's audio installation From Signal to Decay: Volume 1, at the Goldsmiths CCA. There is still that door.
A founding member of the Black Audio Film Collective in the 1980s, Mathison went on to design the sound for many films, including several for another BAFC member. Jean Akomfrah. Who can tell where the music begins and ends as it echoes through the building, changing as we move through Mathison's exhibit? Mathison says he plays the building to himself. Sounds creep down hallways and up through the often underutilized double-height central gallery to the upper floor. It moves as we turn a corner, finding its own boundaries and edges as it encounters other sounds from other speakers in the gallery spaces. The noise of New Cross Road, with its doppler sirens and rough traffic, is fed directly from a microphone on the street along a hallway, and a muted orchestra joins the mix from a pair of mounted speakers next to a single-channel video in the next room. The silent film shows a gray sea and sky, rain at a window, swells on the water, droplets shining on the camera lens, lowering clouds, Scottish weather settles down.
Audio tapes hang from a rail. Numerous DAT tapes and cassette tapes, with pasted photographs and text covers, lie in display cases alongside sketchbook drawings and other material culled from the Walthamstow-born artist's career of some 40 years. Framed drawings, with intersecting circles and ellipses, with pivots and vectors and arrows and networks of swirling waveforms seem to work like imaginary scores. I am thinking of Joan Miró and Paul Klee, and the playfulness of John Cage's notations.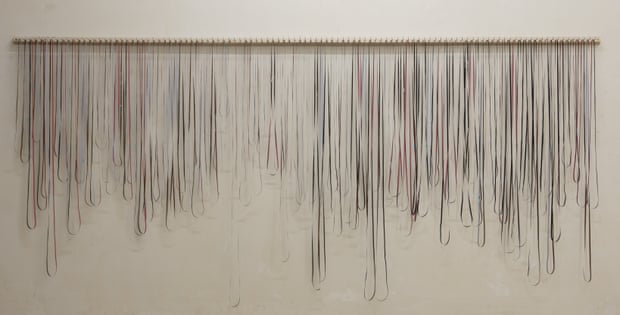 Mathison's scores could also be related to the movements of the artist's hand as he moves his fingers and palms around the golden metal plates of the Landscape "touch-based feedback instrument" which he often uses to create his soundscapes. Working between analog and digital, Mathison's process appears as intuitive as it is structured, and uses his body as much as his ear. Other drawings, using graphite on nubby artist's paper, pick up on the gritty nature of the paper's texture, and Mathison creates differentiated fields of gray by changes in the amounts of pressure his hand applies. These drawings are also divided by occasional verticals and horizontals – one thinks of the horizons and the angles of the walls, and of the particles on electromagnetic tape. These designs also echo the overall texture of Mathison's soundscape, which contains all sorts of changes in depth, timbre and resonance, from which detail flows, some scanned from radio broadcasts – a discussion on the Covid vaccination program in Jamaica, snippets of church chant and reggae and gospel music, all emerging from the whistles and phasing of a radio dial as it scans the stations. Everything connects.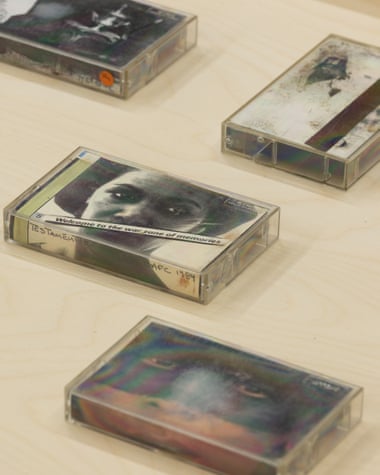 Everywhere there is always some kind of soundscape, if only you pay attention to it. Distinguishing passive listening from active listening, composer Pauline Oliveros said that "to listen is to pay attention to what is perceived, both acoustically and psychologically". When Oliveros performed with a band of musicians in an underground concrete cistern in Washington State, the musicians felt as if they were performing in space as much as they were their instruments. This is so in Mathison's captivating performance, which is as much a sculptural experience as it is an aural and visual experience. It makes you aware of the space and plays the sound of several different works, as well as the incidental sounds of the building and the world beyond. It was the same in Cage's 1952 "silent" piano piece, 4'33", which redirects the audience's attention to the space it occupies, to the sounds of the room (which it s whether it's the air conditioning or the heating system, outside noises or the bodies on their seats) that interfere.
The lower floor of the CCA is the coolest place in London right now. It is a space to slow down and linger, to sit and listen and move around, taking care of one thing first, then another, moving between rooms with the sounds, making its own delays and returns. Mathison has compared his work to dub reggae recordings and Jamaican sound system performances, to the innovations of performers and producers such as King Tubby and Lee "Scratch" Perry. Their influence on artists such as Mathison – and Bahamian artist Tavares Strachan, who has said how sound systems, dub and mixing influenced his work – as well as later acoustic musicians and artists, should not be underestimated. Both loud and quiet, Mathison's show is an unexpected and thoughtful delight.